---
COMING SOON

INTERNATIONAL COMMUNICATION ASSOCIATION


---
HAGANTOWN PARK DO's & DON'Ts: VISUAL ANALYSIS OF SUBURBAN NEIGHBORHOOD'S RECREATIONAL SPACE SIGNAGE

TOWN OF POUGHKEEPSIE RECREATION | Poughkeepsie, New York

Results pending...



---
THE OTOMI'S AMATE: PRE-COLONIAL PAPEL PICADO

FIREBRAND CREATIVE HOUSE | Los Angeles, California

Hypothesis: Only mainstream examples appeared with keyword papel picado. Specific terms, e.g. artists, will result in uncommon imagery.

Methods: Secondary research through search engines, e.g. Pinterest, using keywords relevant to a sub-genre: Catalina Delgado-Trunk, pre-columbian papel picado, amate

Insights: Papel picado carries a complex history of visual styles. The mainstream style of papel picado possibly emerged in response to the violence incited by Spanish Colonialists in c.k.a. Mexico by re-focusing their energy on joy and celebration in its use moving forward. Pre-Columbian and PC-inspired contemporary examples, use(d) paper bark known as amate or amatl rather than the tissue paper material of today. The versions made with amate were drawn by shamans as visual prayers for family, farming, etc.



---
PEOPLE POWERED: Activation/Installation Proposal
ideated, designed, and presented by Firebrand Creative House to LA DESIGN FESTIVAL. Photo courtesy of Schessa Garbutt.
PEOPLE POWERED: SCREEN PRINTING WORKSHOP SUPPLIES BUDGET

LA DESIGN FESTIVAL | Los Angeles, California

Hypothesis: All new materials for a workshop lasting 3 days; 1 hour per day; ~30 people per day; ~6 stations; 1 print per person; 'free' venue; volunteers will cost ~$3k-5k.

Method: Experience ideation in order to write list of potential materials for activities including bookkeeping, screen printing, collage, painting and clean-up. Market research using Amazon for pricing.

Insights: 57 different item types totaled ~$4,023.00. Shipping was the most costly line item right before a washout sink.

Impact: Led to choice to buy locally towards minimizing shipping and request donations for school supplies such as paper, glue, etc.



---
Bar chart comparing price ($ USD) per unit for a batch of about approximately 1000 pieces between five bulk merchandise vendors, specifically for aluminum water bottles with an image printed onto the surface of the bottle using multiple ink colors. Chart created by Michelle Devlin using data from vendor websites.
WATER BOTTLE BULK BATCH PRICING

ART + PRACTICE | Los Angeles, California

Hypothesis: Wrap-around, full-color printing onto metal water bottles will be relatively cheap due prevalence of bulk merch vendors.

Method: Market research through price comparison of metal water bottles across 10-15 bulk mechandise vendor websites, then narrowed down to five vendors, e.g. HealthPromotionsNow, Steelys Drinkware, AnyPromo, Crestline, and Corporate Gift.

Insights: Seeming correlation between price and printed area, possibly due ink costs and set-up charges for a curved printing surface. Partial coverage was significanlty cheaper.

Impact: Picked $3.90 per bottle (1000 piece batch) option due to cost and sufficient printing options.



---
Bar graph titled 'Number of Search Results to Keyword 'African American' of Different Stock Photo Websites' with Adobe Stock highlighted with red in order to emphasize its highest quantity of results. Creative Direction by Firebrand Creative House.
THE SEARCH FOR POSITIVE AND AUTHENTIC IMAGERY OF BLACK PEOPLE THROUGH STOCK PHOTO WEBSITES
BLACK WEALTH DATA CENTER | Tulsa, Oklahoma

Hypothesis: If I input a variety of keywords and search filters to find relevant imagery, e.g. african american, the output will contain a subtantial amount of appropriate imagery for an financial education-oriented social media presence.

Method: Secondary research through blog posts listing best stock photo websites and sites to specifically find positive imagery of the Black community. Primary research by inputing a set of keywords, e.g. african american, plus various filters including: photos; images; include/with people; Black; excludes nudity; excludes editorial; safe search in order to output aligned images and see output number value.

Insights: Bigger sites offer more photos and 'royalty free' options, but many look similar. Smaller sites provide more original options, but less content or require a subscription to use. Number of results does not necessarily equate to appropriate imagery. Further research must be conducted regarding the quality and/or usability of the search results.

Impact: Provided alternative stock photo sources which allows BWDC to maintain an authentic feel through their social media presence. Follow-up data collection must be conducted in order to reflect the quantity of images available for stock photo websites that are specifically marketed as 'diverse' or catered for the Black community of the United States.



---
A colorful chart showing the ratio of white designers to 'non-white' designers listed on Adobe Fonts' 'All Designers' webpage.
Chart by Michelle Devlin and uses font
︎︎︎GT America Trial.
RACIAL REPRESENTATION GAPS IN ADOBE FONTS 'ALL DESIGNERS' WEBPAGE

ADOBE FONTS | San Jose, California

Hypothesis: People of color will comprise half of the designers listed on Adobe Fonts due to the global nature of font design.

Method: Content analysis of 671 profiles of active, individual designers listed on Adobe Fonts' 'All Designers' webpage. ~10 profiles were excluded due to being representive of a collective or a lack of attributed designs.

Insights: White designers, or those of White-European descent, comprise 65% of designers listed on Adobe Fonts. Meanwhile, Black, Pacific Islander, and Indigenous designers comprise less than 0.5%.

Impact: Stands as another example of a stark representation gap in the design field.



---
Mock-up of a web browser showing the top portion of eNewsletter re-design featuring content about Communications. Designed by Michelle Devlin. Creative Direction by
︎︎︎Artech House USA.
INCREASED WEBSITE TRAFFIC THROUGH eNEWSLETTER

ARTECH HOUSE | Boston, Massachusetts

Hypothesis: Transitioning to eNewsletter catalogs will increase website visitation because readers will no longer have to open a .PDF to find hyperlinked content. Rather, the hyperlinks will be placed in the e-mail body.

Method: Document design and implementation includes creating a text layout that creates visual interest for readers and easily coded by the publisher's webmaster.

Results pending...


---
DYNAMIC CAPTIONING

MIT MEDIA LAB | Cambridge, Massachusetts

Hypothesis: If subtitles were dynamic in matching the dialogue's tone of voice to an appropriate font style, viewers would be more engaged.

Method: Mapping a variable font and its various style to each piece of subtitling in a similar way each piece of subtitling has been mapped to a particular scene of a TV show or movie.

Results pending...


---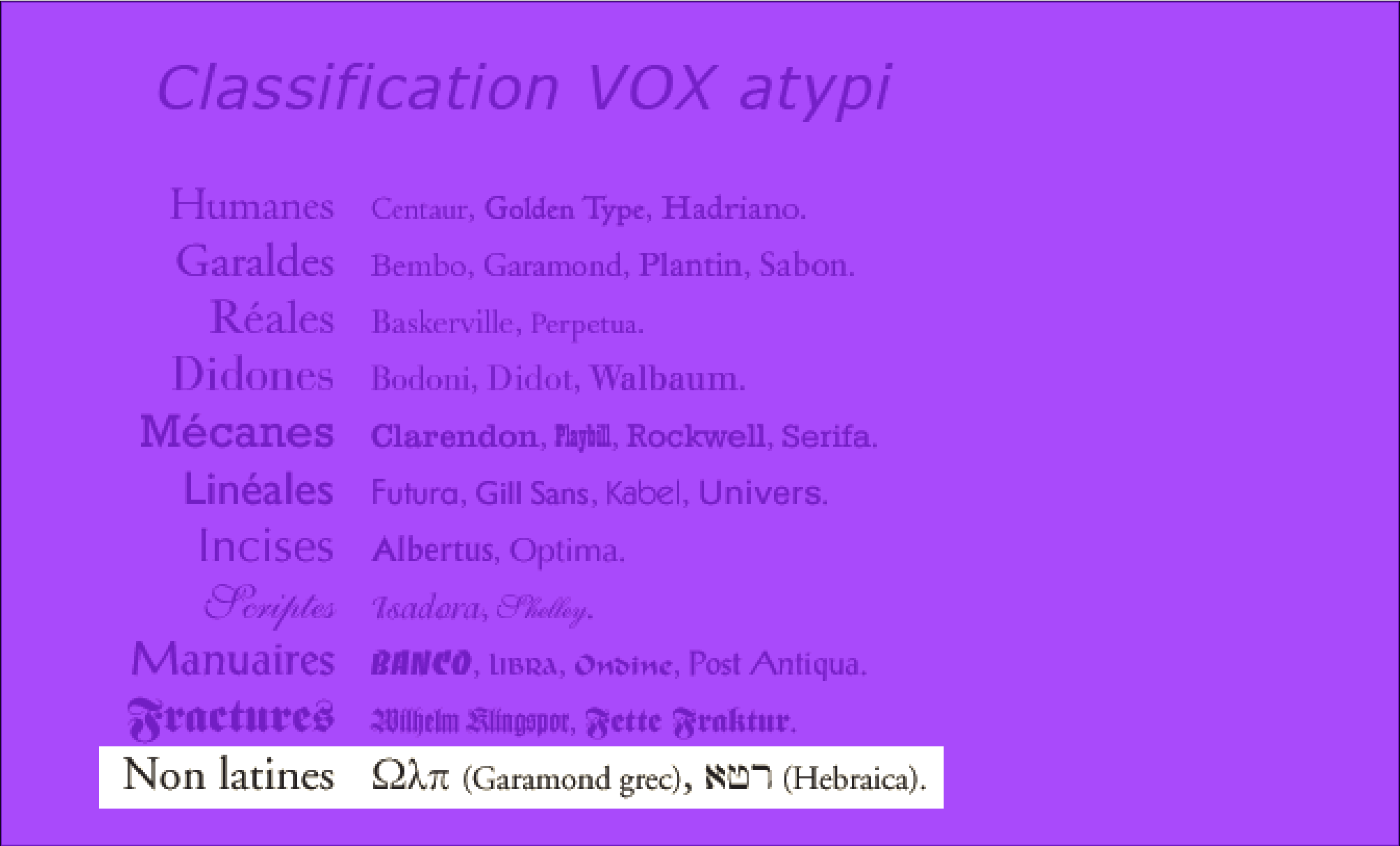 Vox-ATypI language script classification table annotated with purple to highlight the use of 'non-Latin' in its history as an international organization (circa 1999). Photo courtesy of Nanki Nath and Ravi Poovaiah through
︎︎︎ResearchGate
.
NOTO, SOURCE, PLEX: THE LANGUAGE OF 'AMERICA'S' KOREAN FONTS

ROYAL COLLEGE OF ART | London, England

Hypothesis: The simplistic vocabulary used in digital font marketing conceptually mirrors the oversimplified design of letterforms across global cultures thus, prioritizes white, Euro-centric and technocapitalist beliefs.

Methods: Primary research into Google, Adobe, and IBM's font marketing of Noto, Source Han, and Plex for the Korean character set by annotating webpages. Personal creative method named Writing as Practice including visual experiments which illustrate the impact of font choice on wording, particularly how font choice affects tone of voice in reading and writing words in real-time.

Insights: 'non-Latin' was used the most across of the three companies' marketing. Creating a binary between Latin, e.g. Aa, Bb, Cc..., and 'non-Latin', e.g. literally everything else, results in a false binary that prioritizes a dominant, oppresive culture in the realms of design, technology, and language.

Impact: One solution to 'non-Latin' includes re-orientating our thinking of font design by addressing global scripts using the name(s) determined by its original culture.



---